Home Education Key Stage 3 Correspondence Courses (11-14)
Key Stage 3 Courses (11-14)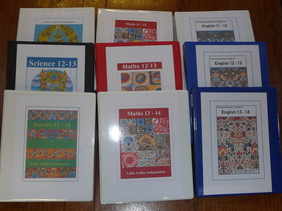 Parents come to home education by many different routes. For some, their moral/religious/ethical/social beliefs mean that school was never a serious option. For others, illness, injury, bullying, geographical location, lack of acceptable schools or a host of other reasons have led them to consider home education.
As a home educator, you have great freedom. You are not tied to a timetable; you are free to choose what you teach and how you teach it. But you do have a responsibility to provide an adequate and appropriate education suitable to the age, ability and aptitude of each child.
For the majority of home educators it is also true that, whilst they may not be happy with the way subjects are taught in school, they do, nevertheless, wish their children to master the rudiments of core subjects like English, Maths and Science. In our Key Stage 3 packs, we therefore follow National Curriculum so that you can:
Feel assured that your child is covering the same learning as in school, except at their own pace.

Ensure that you are paving the way for a smooth transition between Key Stage 3 (11-14) and Key Stage 4 (14-16) when your child may wish to work towards formal qualifications. Most GCSE courses will assume basic numeracy and literacy skills.

Feel confident that, should for any reason your child start or return to school or college, s/he will be up to date.

Feel secure that you are able to demonstrate to your Local Education Authority that you are providing a suitable and adequate alternative to school.

Enable your child to proceed to (I)GCSE courses that will provide them with access to further education or employment opportunities.
Whilst some argue that it should not be necessary to 'prove' that you are providing an adequate education, many find, in practice, it saves a lot of time, stress and trouble to show that you are simply covering a structured, National Curriculum-based course.
We have aimed to keep our courses affordable and suitable for parents without specialist knowledge or facilities. Our packs are down-to-earth guides for those seeking to cover a school type curriculum at home. They are specifically geared to the language levels and interests of children - not courses written for adults made available to children.
Because all our courses are marked 'in house', we are able to build a picture of what each child is achieving. When, for instance, your child reaches the end of Key Stage 3, we are therefore, like an old-fashioned class teacher, able to offer advice about choice of IGCSE subjects and levels.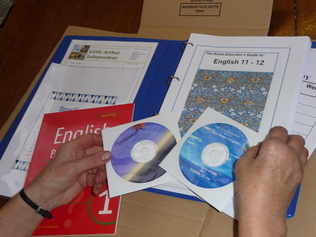 Each of our Key Stage packs is different, depending on the requirements of the subject, but ,
generally speaking,
they follow the format of:
Appropriate textbook/study books/study material
For Maths, English and History, a CD is also included
Ten tutor marked assignments
End of course SATS type assessment
No additional textbooks are required
Each Key Stage 3 pack includes the learning a child would be expected to cover in a year at school. Our 11-12 course aims to teach National Curriculum level 5 skills; 12-13 level 6 skills and 13-14 level 7 skills. The final SATs equivalent test allows you to assess your progress at the end of each course. Courses can be started at any point during the year and completed at your own speed any time during a two year period. Parents with more than one child being home educated may also like to know that, if they wish to photocopy assignments, a "marking only" option can be arranged for subsequent children, thus keeping costs to a minimum.
Using English 11-12 as an example, students will receive:
Student File - containing Instructions, 10 assignments for sending to the school for marking and a complete SATs test. The student file covers all the main learning topics of level 5 - writing, reading and listening. Explanations and exercises are provided that cover the "nuts and bolts" of English - sentence structure, punctuation and grammar - as well as providing access to different genres. During the Key Stage 3 courses students will be introduced to narratives, articles, poems, plays, posters and pamphlets and assignments give an opportunity to practice the different styles required. There are also exercises to improve listening and communication skills. Although students are welcome to produce their work in a word processed format, exercises are also provided in handwriting as it is important that students, by this stage, are able to communicate their ideas legibly, especially when it comes to exam papers (in any subject!) Students are encouraged to take pride in the work they submit and present it in an attractive and legible format.

A recommended reading list is included to provide guidance in this area for parents wishing the encourage children to tackle "classics" appropriate to their age. This is not a compulsory part of the course but intends to suggest titles for broadening the student's reading.

Spellings Kit - a pack of weekly spellings for children who find this topic difficult. The kit includes exercises, chart and CD. By Key Stage 3, some children have become confident spellers but most still struggle with spelling even commonly used words. This kit provides a method of slow but gradual improvement through a very attainable weekly list to be mastered. These spellings can be tested at home on a regular basis.

Textbook - This covers the basics of grammar, punctuation and more spellings and is intended to give extra practice on a weekly basis. Again, some children will have already mastered most of these skills but this book provides regular practice, carried out at home, at your own speed, whereby basics can be taught and reinforced. The book contains answers allowing parents or students to mark their work for immediate feedback.

CD of listening excerpts - This accompanies the student file and includes excerpts to be listened to in conjunction with certain tasks.
Throughout the file, many exercises will be accompanied by answers or suggested responses. However, in English, more than in any other subject, it is important that a student's own work is assessed. "Standard" answers may be helpful but often there is no "right" or "wrong" answer. What is being assessed is a student's ability to respond to a question or task and this can be done in many different ways. Tutor feedback is, therefore, key to progress. Tutors are not always looking for mistakes - often they need to comment when a student has actually excelled in a certain aspect. Sending in assignments is the student's opportunity to gain personal feedback so that they can learn how to improve their own work rather than copying a standard correct version. Tutors will often send examples of other students' responses to a set task where a particular skill application can be seen being used as this has been found to be particularly helpful. There are ten assignments in the course, many consisting of two parts. These can be sent in as completed but, as a rough guide, we would suggest at a rate of one a month.
If you have any queries whilst working through your course, these can be included when sending in your assignment. Do not worry if you cannot always answer questions. The questions are designed to check your understanding of the learning points and, where misunderstandings have arisen, your tutor will send you further help-sheets to assist you.
Each of our courses is uniquely geared to the requirements of the subject. The tutor-marked assignments enable us to offer a personalized service and provide constructive feedback helping the individual child progress.
What we cannot do in a pack is provide the day-to-day encouragement, support and interest that a child needs. Only you, the home educator, can provide this. This is why we consider our packs a co-operative venture between home and school, allowing children to achieve academic progress without sacrifice of other, often more fundamental, principles, be they social, health, moral or religious.